WE DESIGN, DEVELOP AND HOST MOBILE FRIENDLY CONTENT-MANAGED WEBSITES!
All sites are self-editing, available with online merchandising - shops and catalogues; membership groups with paid and unpaid subscriptions, blogs and content stores, all supported with integrated email for client communications and back-end administration.
Plus an Organic Search Engine Optimisation (SEO) package and optional hosting and support packages.
We can help you promote it too, with a full range of digital and traditional marketing communications.
---
Although Joomla has served the online community extremely well over the years, many businesses are operating websites that are still running on very early versions of this popular platform and thus not only missing out on a large range of benefits - notably being able to run on today's mobile devices - but also exposing themselves to considerable risk.
THE PROBLEM
Support for older Joomla websites has now ceased
Websites are open to hacking attacks

System crashes

Blacklisting on the web

Client disruption - loss of email

Loss of Income!

Website lost - no easy fix!
Security is becoming weak for all, as the software cannot be upgraded to meet the requirements of each new security update on the internet, leaving sites vulnerable to various types of disruptive attack such as spamming, hacking etc.
Extensions and Plug-ins for additional services are rarely supported for Joomla series 1 to 1.7 and are becoming a source of operational weakness. So the more developed sites are facing problems in keeping all of their online services running reliably.
Web hosting providers are rejecting early Joomla websites, asking that they be updated or moved away as they do not operate successfully on newer servers being deployed and are causing problems all round - in some cases being blacklisted!
And it gets expensive when websites become vulnerable to security breaches and viruses. It causes operating problems, system crashes and unplanned downtime:- operators of websites that support large membership/subscription groups can wake up to an administrative nightmare and severe user reactions.
WHAT TO DO?
Don't panic but do take action!
Ensure your website is regularly backed up !

Contact Netcollaborators to asses your website

Receive free technical report and recommendations.

Quotation for migrating to the new Joomla 3 series
A good time to take stock. Some options:-
Most Joomla series 1 websites do not upgrade easily to the new platform – it's a big jump and requires specialist manual interventions, which can be costly.
If your website is well developed – rich in current content and fully engaged with your customer base, the decision is probably made – 'You have invested a lot in your website; can you afford to start over?'
If your website is mainly an online brochure it maybe tempting to just scrap it all and start over with a fresh approach but 'starting from scratch will represent a lot of time and effort from the owner – only worthwhile if it's is part of significant business overhaul.'
Netcol can help you – let us have a look at your site to understand how it's set up, review its components and we can then give you a fixed quote and heads-up on what's required to successfully migrate to the new Joomla 3 platform and other options for your online business.
We make no charge for this pre-project consultancy.
THE BENEFITS
The Benefits - Joomla 3
Works great on smartphones and tablets

Can be configured to match your existing website

Automatically integrates with social media

Well-defined long term support

Easier administration and content management

Wide range of smart apps
Benefits of Joomla 3 websites
A new Joomla 3 website – a significant new asset ready for the future - an opportunity to enhance and upgrade what's on offer to your public - on the desktop and on their smart phones and tablets!
It can be configured to match your existing website, yet incorporating all the advantages of the new system, such as integration with social media. Content handling and administration in the back-end has been greatly simplified!
The 'look and feel' will be more modern but still very familiar, and therefore supportive of your established brand and identity.
Your client base will feel confident they are back with a trusted player but using a better service! And you will not have to retrain from scratch to operate it.
New mobile responsive Joomla automatically reconfigures to suit the device the visitor is using - smart phone. tablet or one of them 'old fashioned' Desktop Computers!
It comes with well-defined long-term support and is regularly updated to remain secure and reliable. '3' will operate on a wide range of the latest hosting servers.
A wide range of competitive applications is available for you to get the most out of the worldwide web for your business and clients.
OUR PROCESS
Please take a look at how we work:-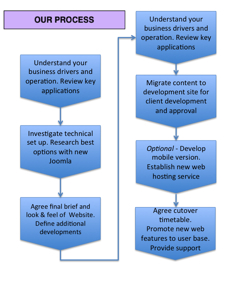 WHY US?
Over 10 years experience with Joomla websites

Developing, designing and hosting websites

Specialist in online business systems

Digital business marketing specialist

Creators of content, themes and promotions

PR and social media campaigns
NetCollaborators is a specialist in providing online business solutions.
It has been helping clients build, run and develop Joomla websites since the system was launched in 2005.
NetCollaborators provides:-
Website design using Joomla and WordPress

Web hosting and email support services

Search Engine Optimization projects

Specialist applications

Online shops and ordering services
NetCollaborators provide a range of creatives services to help its clients promote their online business including-
Promotional campaigns and themes

Online content - copy and audio-visual material

Social media and PR campaigns

Online media launches

New website launches